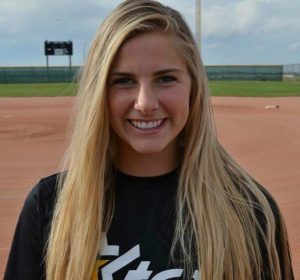 Wow, you never know how fast time goes until everything is gone. You also don't realize how much things change and how certain things are subject to change. I just finished my last high school softball season and signed my letter of intent to attend North Florida University on a softball scholarship.  In a few weeks I will be a high school graduate. Just like that, everything is different. I will spend the spring preparing for new challenges at a new school in a new state on a new team.
I already have some idea of what it is going to be like.  Between my Junior and Senior years I transferred high schools and let me tell you, it's the hardest thing ever   My whole life I have struggled to find people like me: same goals, morals and views on life. When I transferred I left those friends behind which resulted in a lot of free time. I used this free time to train, focus on my studies, and make myself better. At first, everything about this new school and new situation made me feel very depressed and lonely, except  when I was on the softball field this fall. It was pretty tough fitting in because it didn't feel like my program or school, but I tried to make the best of it. My stats were not as good as I had hoped or as the rest of the teams, parents, and coaches hoped. I felt very hopeless to say the least. Soon enough I realized that since my bat wasn't very "hot" at the moment, I would try to focus on being better at different things, such as being a good teammate. As a result of the change I made some incredible friends and met people I owe my senior year to. We ended up finishing the season on a high note, beating 4 time defending state champion Valor Christian High School, breaking their 28 game winning streak.
This past year has not gone how I expected it to but as I am coming to the end of my high school career, I have truly realized that all of these significant changes have made me a better student and athlete. It has helped me get ready for the transition to the next level. I have changed a lot mentally and I believe my mindset is very different now. I am now much more aware of my behavior and work ethic. I catch myself working harder now than I ever have, both mentally and physically.
I am not telling you to ditch all your friends because you want to become better. I do, however, encourage you to find and surround yourself with people who mirror you and support you. Along with finding quality peers, you need to support yourself and believe in yourself. You realize a lot of things senior year. Everything starts to become real. Although this year was a really big change in my life, I think it has prepared me mentally for college and taught me what to focus on during the next steps in my life.  Follow my blog to see how I make what I hope is the successful transition from high-school to NCAA athlete.